SC26 Started Ceremonially
And after the quake a fire, but the LORD was not in the fire.
And after the fire a still small voice. (1K 19:12)

SC26 ceremonially started as announced by a 10 month Countdown, celebrated with a blinking light-show of double-direction erupting sunspot, with inscriptions in Solar clouds and in magnetic surface field, and a small high-latitude sunspot of new SC26 polarity, blinking the darker spot for just few hours...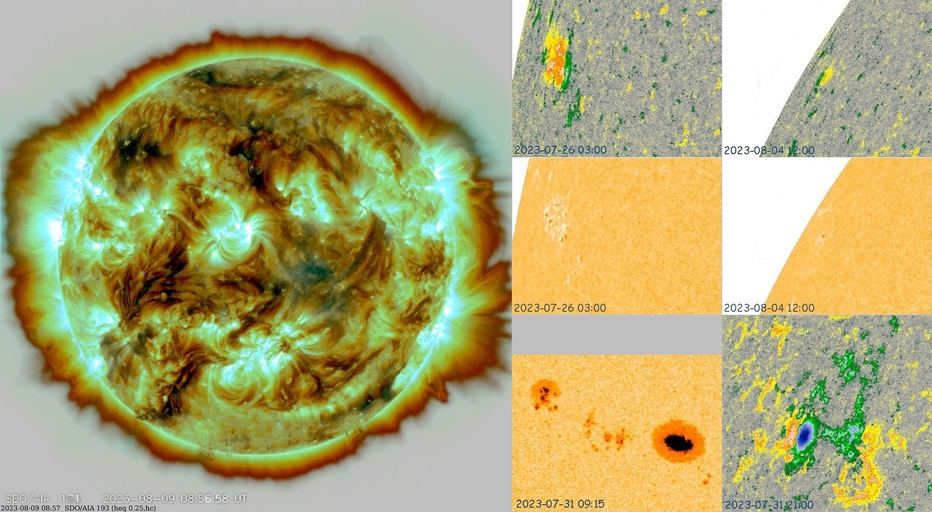 As the Countdown pointed to 2023-07-26, there has been a new small SC26 sunspot on that day, vanishing soon. The nearby region later showed a Lamb at one time, then 26+ in visible light on 2023-07-31 when turned toward Earth in the center of Solar disk, and later evolved into a double-direction Sunspot erupting with multiple X-class flares... And it has been surrounded by a Bird in ultra-violet clouds, as will be explained later...
There has been another sunspot group, part of which had the new orientation, showing letters IHS. And on 2023-08-04 there has been a short weak high-latitude sunspot with purely new SC26 polarity orientation...

As a reminder - there has been displayed STOP ATEISM in clouds over Atlantic when 1 was in the Countdown...

This new Cycle ceremony happened probably also to remind of SC25 starting in the middle of 24th cycle in 2012 with a sunspot with cross configuration, evolving through a Px cross to a Lamb with seven eyes, with Throne depicted soon in Solar clouds, human-like face of Christ surrounded with other three "animals" (Rev4), and a dove-shaped sunspot and active region, that started on the feast of Annunciation, and of the following Judgement, occuring during the SC25 cycle...

Sunspots with polarity of the new Cycle usually start in the middle of the preceeding Cycle at high latitudes, the cycles usually overlap, which was not known before magnetic polarity of sunspots started being observed regularly...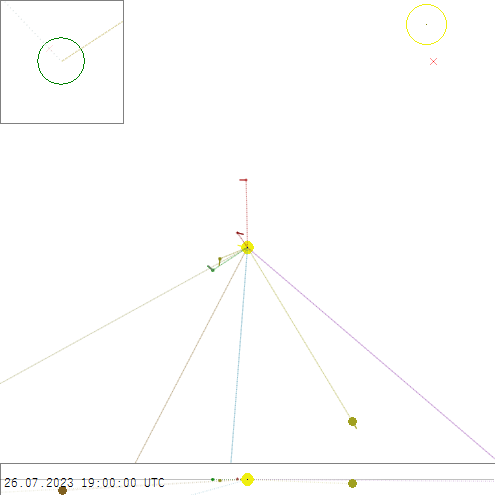 At the time of heliocentric quadrature of Earth and Jupiter on 2023-07-24 and Venus Jupiter heliocentric quadrature on 2023-08-01, when Earth is decelerated most by approaching Venus toward near conjunction on 2023-08-13...

There has been another sunspot with "reversed" polarity reported in May 2023, but that was another case...
The active region rolled over limb on Workers Day 2023-05-01 with two active regions of normal old orientation, and first sunspot appeared on anniversary of Odesa Massacre at 2023-05-02 06:00, then the eastern field quickly degenerated, the western turned wrong north-south orientation, and the two sunspots merged to form a temporary sunspot with new orientation, to be resolved on End of War anniversary 2023-05-09 into a group of two and then three sunspots of normal old orientation...
As there have been merged and reconfiguring opposing fields, this also showed a spectacular show of flares and eruptions...
(This has been left above the digit 3 in the Countdown...)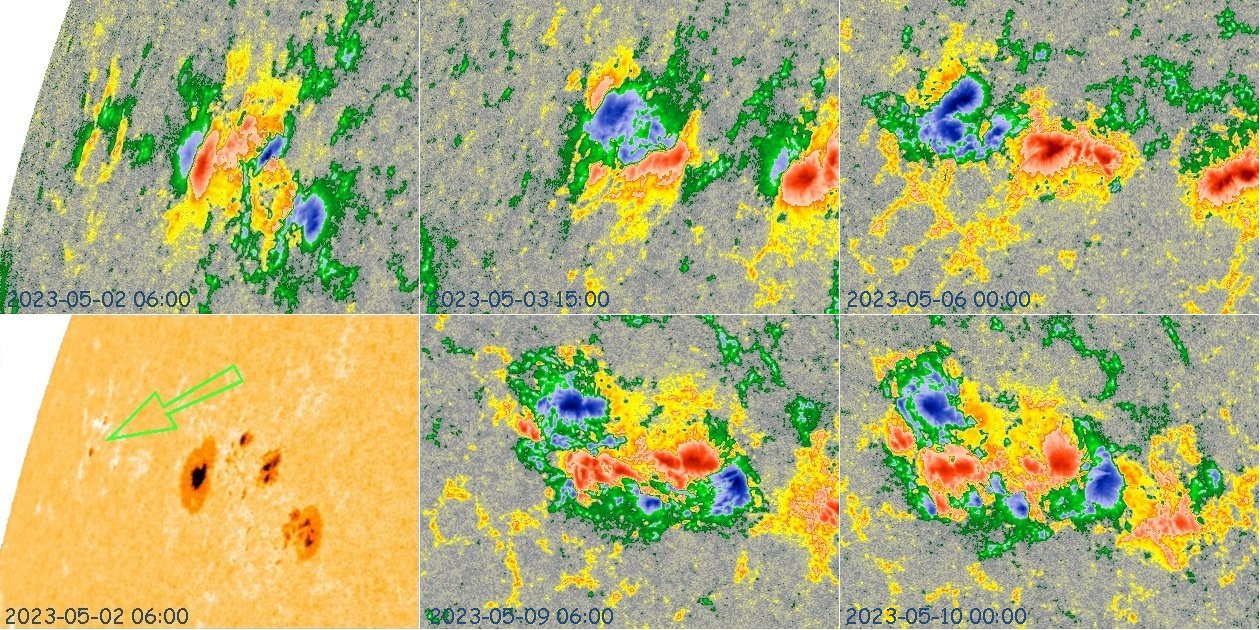 It seems there may have been some hardly discernible letters in that sunspot on 2023-05-04, possibly reading "Elijah" at one time, or is it "hijak"...?

Twitter Alphabet Theft
As 25 is number of Christianity, then 26 is number of יהוה God, and number of the (western) Alphabet.
When it has been displayed in the visible sunspots, there already has been huge Twitter bird around it in ultra-violet clouds, with that spot 26 in its center.
It's been there for few days, and was followed by X getting into a box [x] on 2023-08-03 to 04, then unchecked by a filament drop, then again X in a pentagram communist star, then broken by letters SUE on 2023-08-06. Then it was followed by that huge 26 in ultraviolet clouds on 2023-08-09.

Avoid Twitter Alphabet Theft !
X is a generic Alphabet letter, it's a symbol of Statistics and Elections, of Mathematics, Informatics and Science in general...
And all these are now attempted to be stolen by Twitter X Theft - because when calculating anything x = ... , will it be an advertisement for that private social network...? Similar as Russians stolen alphabet letter Z, it has been almost forbidden by some western Rusophobes...
A-Z 26 - preserve alphabet public...!

It has been followed by inscriptions EU 27, USSR (among possibly others) ...
This "Union" is behaving increasingly more and more like a despotic communist tyranny...
Contemplate often, what is symbolized by the Union flag, and what is not there and should have not been... There should be no huge dominating central star (or sickle and hammer or whatever) inside that circle of same stars...!
There is a Video appendix to this article with various Solar videos...
P.A.Semi - πα½ 2023-08-15..17